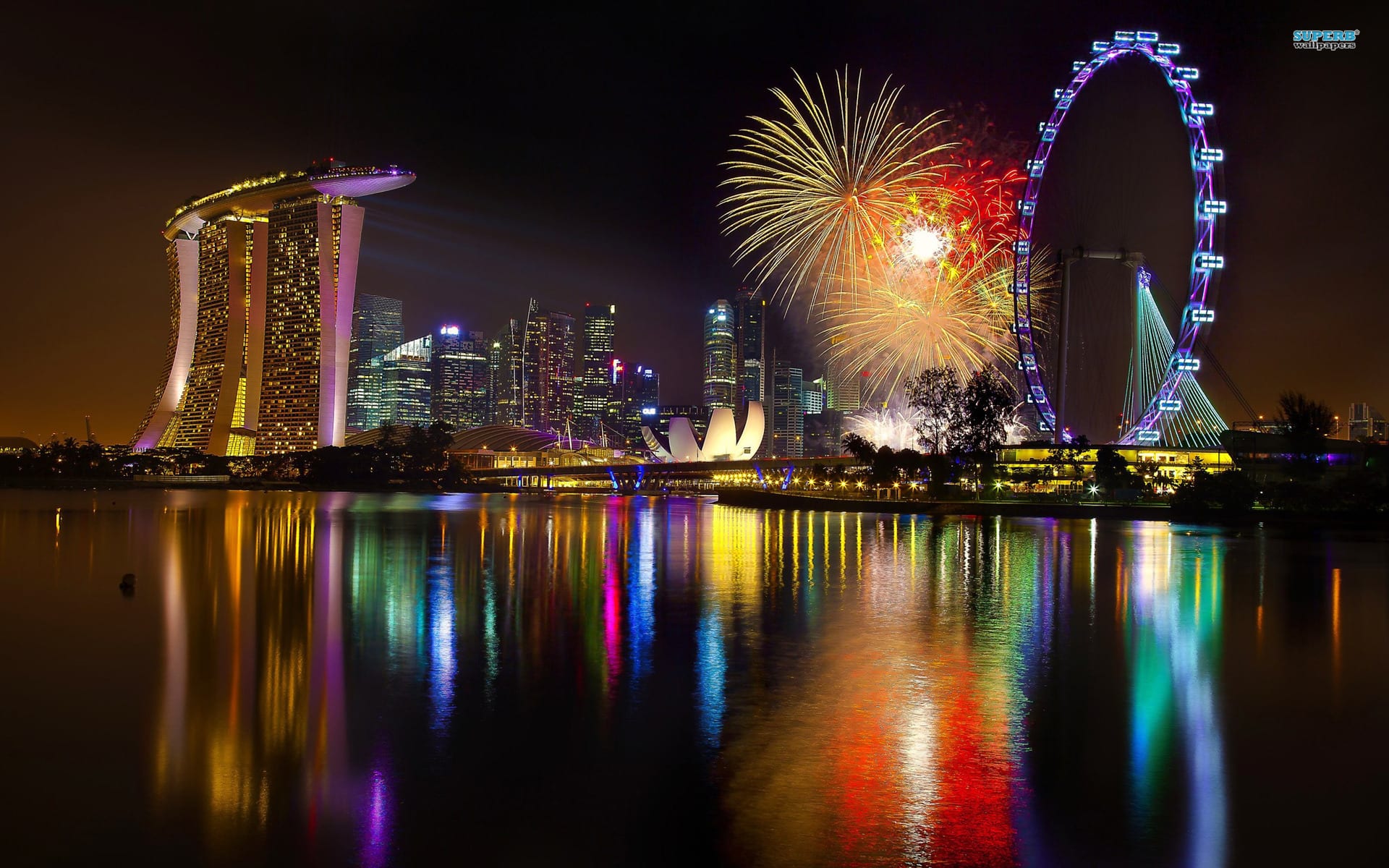 Do you ever contemplate moving abroad but don't quite have the confidence to take the leap?
With such a variety of options to choose from whether Europe, Indonesia or Australia, considering a move abroad can feel like a minefield. From assessing the cost of living, sounding out new job markets or wondering about the likelihood of making new friends, upping sticks can seem as scary as it can exciting. But it doesn't have to be.
That's where Gazing Girl comes in.
In a series of short interviews with guys and girls who have moved abroad to France, Spain, New Zealand, Australia and beyond, we hope to give you the push to travel where your heart takes you.
Next stop, Singapore! Over to you, Sophie…
Can You Tell Us A Bit About You? 
My journey thus far has been quite a winding road, involving many changes in direction! This includes going from studying degrees in History of Art to Graphic Design to Chinese Medicine and the varied jobs in-between! I soon realised that I was not suited to a linear office job. The decision to embark on a Chinese Medicine degree at last began to satiate this longing I had since a girl to have a deeper understanding of the holistic nature of the world we occupy.   
What Inspired You To Move Abroad? How Did You Manage The Change? 
Having spent a good deal of my twenties based in London, I moved to Singapore with my boyfriend, who was transferred for work. At that point I was working for an organic company and having finished the Chinese Medicine degree, I was also practicing Acupuncture. On the one hand I thought it could be a great opportunity to live in Asia, the home of Chinese medicine! On the other hand I was anxious about leaving behind a growing practice in London. In the end I took the plunge for our relationship and the adventure. The change has been exciting, insightful and at times, frustrating!   
What's Been The Biggest Highlight? 
Most definitely the people I have met. I've made some really special friends out here; it's quite strange to think I didn't know them a year ago!  
What's Been The Biggest Challenge? 
It turned out that the Singapore Chinese Medicine Board has a good deal of red tape in store for expat Chinese medicine practitioners! To be granted a license to practice acupuncture, a degree from Singapore or only certain Asian universities is required. So I have essentially had to put that career pathway on pause for the time being. The first 6 months I was helping out at a friend's alternative shop and now I am using the time to develop my creative interests and build a small company myself. It is easy to arrive in Singapore and be dismayed by the 'corporate cloak', however there is opportunity for expats who aren't in corporate fields. The creative market is not saturated as in places like London, where competition is fierce, so there is actually more chance to stand out.    
What's Your Favourite Aspect Of The Country?
Singapore is a gateway to Asia – the perfect platform for travel. I have managed to travel to Thailand, Cambodia, Myanmar, Bali, Malaysia and Hong Kong thus far! Singapore boasts a clean, green, safe and smart habitat. Although it can be seen to lack character compared to other Asian cities, there certainly is character when you really look. The ease of living here is rather dangerous and it will be a shock leaving if one gets too accustomed! The lower taxes are another plus. 
What's Your Least Favourite Aspect Of The Country? 
In certain areas there are shopping malls spreading like fungus! I choose to mostly avoid them! There are also many interesting old areas of the city to shop and explore.
The living costs are also generally rather high. I would say we spend more money here than we did in London. Even though taxes are low there are hidden taxes lurking in Singapore; import taxes can be huge and so certain products are shockingly expensive. You can avoid these costs if you don't need a car / wine every night! / flash apartment, for instance! Expats do tend to pimp it up out here though. My Singaporean friends, on the other hand, tend to be more frugal.   
What's The Biggest Difference To The UK? 
I'm going to go 'hippy' on you now! Energetically I feel much lighter here than I did in the UK. I love London for its culture, but it can weigh quite heavily on a sensitive soul. The weather is generally a plus here (G & T on the balcony anyone?!) but the lack of seasons can mess with your perception of time and the humidity can sometimes be stifling. Although I'm not complaining – English winters are far too long in my opinion!  
Did You Have A Stereotype Of The People In Your Mind And How Did Reality Reflect This? 
I have visited Singapore several times over the years before moving out here. I would say that the expats living out here have become more eclectic. It used to feel quite heavy on the male shipbroker front and had a reputation for nurturing young bachelors at the beginning of their careers or for being a safe place to bring up a family.
There are now more single women choosing to move out here and also more creative types of roles. It is fast becoming a more exciting place to live as well as offering a comfortable lifestyle. 
How Did You Find Making New Friends?
We already had several friends living out here and the rest is a snowball effect. I think because everyone is in the same boat in an expat community, people are generally incredibly open and go the extra mile. When you meet someone at a party who you click with it is standard to ask for their number and actually follow up. I have made friends here who I know will be friends for life.
I think widening your circle of friends is one of the main advantages to moving abroad; throwing your net in different waters and being open to different companionships and insights.  
How Hard Is It To Get A Visa?
There are different types of passes and it can seem quite confusing at first. I have a Long-Term Visit Pass, which I was eligible for on the grounds that my long-term boyfriend works here. In order to live in Singapore, you (or your partner) need an Employment Pass, which your company will issue if you are being transferred out here for work. 
People are generally transferred from their company or are transferred between companies out here and interviews mainly take the form of friends putting you in touch and informal coffee chats! If you do find work out here, the company will apply for an Employment Pass, which needs to be approved.
What's The Foreign Job Market Like?
For those looking for work outside of banking, insurance, law, ship broking, and recruitment, it can be tricky to find a job in Singapore 'off the boat'. Traditional ways of finding work through recruiters are difficult for expats in lower paid or alternative / creative roles.
There is also a drive from the government to recruit locals where possible.  As a result, many expats who have moved here for partners and find it hard to carry on with their career tend to set up small businesses themselves. For example, I have friends who have set up businesses in Interior Design, Photography and Floristry.  
How Much Does It Cost To Fly Home?
On average an economy return flight to the UK will cost around £800-1,000. It's a 13 hour flight direct. Although, if booking well in advance and at less popular times, particularly with indirect flights (for example, via Dubai, Abu Dhabi, Sri Lanka, Mumbai), it's possible to find cheaper than this.  
How Much Of An Issue Is Homesickness?
On the homesickness front, Singapore can be quite a bubble so once submerged within the lifestyle, your old life back home can seem like a dream!
Having said that, I do miss my family and close friends along with fresh air! Although Skype is such a good simulation of 'almost being in the same room' which makes the distance less tangible.
I also enjoy writing and drawing cards to stay in touch. The main frustrations are the different time zones, the lack of physical contact and sharing experiences and key events in loved ones' lives. I try to fly back for key events where possible though!
What Would You Do Differently Looking Back? 
I would jump straight into research towards setting up a company out here and implement action sooner. It's easy to procrastinate and potter along. It is tough to go back to the drawing board on a professional level and my ego was taking a bashing, so inevitably doubt and indecision has crept in.
However, sometimes when you feel like you're moving backwards, you're actually moving forwards. Through initially working for this 'fringe' shop I gained invaluable contacts with an undercurrent of interesting Singaporean Creatives, which is hard to access as an expat. Working there also offered me routine when I first arrived whilst I was exploring what I could do long-term, as well as insight into setting up a business out here.    
What Advice Would You Give To Someone Thinking About Moving Abroad?
If you feel stuck where you are, then why not give it a whirl?!
I would also say, though, it's important to think about whether the move is part of a deeper exploration of your life or an escape from yourself. I am reminded of the title of Jon Kabat-Zinn's meditation book 'Wherever you go, There you are.' In other words, the novelty of changing scenery will wear off soon enough, leaving issues once again exposed. That said, I do believe certain people and surroundings can provide a needed catalyst for deeper introspection.  
It is important to really sketch out a timeframe and to prioritise goals to make the most of your time and really analyse whether you are capitalising on your skill set. Sometimes this is complicated – areas of our life can wax and wane at different times and I suppose patience is important! If you have moved for a partner then of course compromise is key! It's just getting the balance right and knowing what is nurturing your growth overall.    
What's Next For You? 
I am now looking to open a small ethical clothing line and am currently designing cards, commissioned by a shop. Also I am in the process of launching a holistic blog to share thoughts and finds, from practitioners to creative workshops to finding organic food and everything in-between!  Painting happens in the background and we will see whether that drums up any interest! With the coming and going of expats, there are certainly many white spaces needing filling so I would like to have a small show when I get a collection together that I am happy with! 
Overall, I am attempting to move forward with more courage and to stop worrying about whether something will work or not. I tell myself: "Get over yourself as well as other peoples' expectations and play with your creativity!"  I think we need to feel the fear and challenge ourselves to live an authentic life! 
How Can We Contact You?
By email – sophiecrawley33@gmail.com
What's Your Favourite Quote? 
There are too many inspirational people to choose from!  Two of my mantras of the moment are above 😉 
Tell Us Something We Didn't Know About You…. 
I look forward to a time in my life when I have enough green space around me to grow my own vegetables and the companionship of a cat, dog, chickens, goats and a horse!