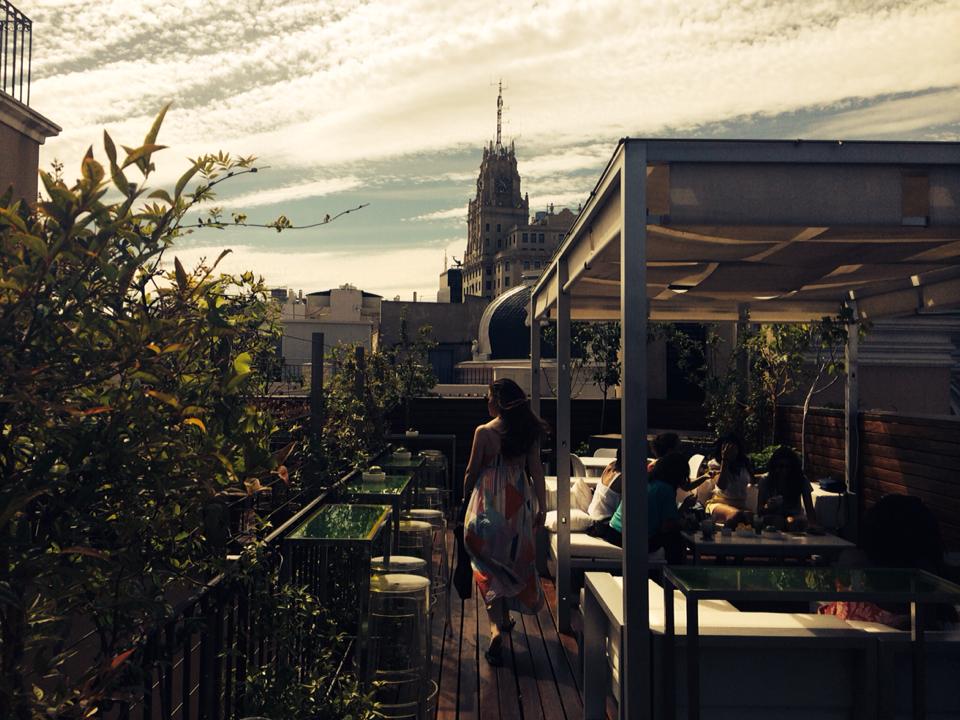 Do you ever contemplate moving abroad but don't quite have the confidence to take the leap?
With such a variety of options to choose from whether Europe, Indonesia or Australia, considering a move abroad can feel like a minefield. From assessing the cost of living, sounding out new job markets or wondering about the likelihood of making new friends, upping sticks can seem as scary as it can exciting. But it doesn't have to be.
That's where Gazing Girl comes in.
In a series of short interviews with guys and girls who have moved abroad to France, Spain, Singapore, Australia and beyond, we hope to give you the push to travel where your heart takes you.
Next stop, Madrid! Over to you, Leah…
Can You Tell Us A Bit About You?
Of course! My name is Leah. I am a 23 year old Canadian girl who loves to travel! I grew up just outside Toronto where I eventually went to school at Seneca College for Early Childhood Education. As with most people my age, I am currently questioning whether it was the right field for me! I've been giving writing a try over the last few years and I really quite enjoy it. I lived in beautiful Roma for 4 months in 2012 and since then I have spent every summer abroad. I am currently spending my first full year in Madrid, Spain!
What Inspired You To Move Abroad?
I was bitten by the travel bug early on. My whole life I surrounded myself with photos and books of faraway places that I wanted to visit. I spent all my time reading about the histories of civilisations around the world. I knew right away that I wanted to experience a lot of cultures in an in depth way. I pictured myself on adventures like Indiana Jones or Laura Croft.. you know how they've been to so many places and have the ability to just immerse themselves in the world they happen to be in that day? That's what I wanted.
How Big Is Madrid?
Madrid is the capital and largest city of Spain. The population of the city is almost 3.2 million and that of the Madrid metropolitan area, around 6.3 million. It's the third-largest city in the European Union after London and Berlin and the city spans 233.3 square miles. But unlike some capital cities, its pace is relaxed and welcoming despite its size.
How Did You Manage The Change?
I worked on my first trip abroad for about a year before it actually happened, so I felt incredibly prepared for it. I didn't plan my every step but I created an outline for myself so that I had some form of stability while over there. When I finally arrived I was so over the moon with my new environment that some of the plans went out the door as I gave way to spontaneous acts. I think the most important thing for a traveler is to completely rid yourself of any expectations. These can easily hinder an experience. I went overseas ready to fully absorb the cultural differences and to take things as they came. 
What's Been The Biggest Highlight?
Where to start? I'm going on my fourth summer abroad and even though I have visited many different places in that time I'd have to say that one thing they all have in common is the amazing people I've met along the way. I've done a lot of growing up during my travels and have learned many life lessons solely due to meeting people from so many different walks of life. It's amazing – there are so many different opinions, religions and lifestyles out there. We all happen to cross paths magically at the same place and same time. It's very serendipitous! 
What's Been The Biggest Challenge?
The biggest challenge of living abroad has to be the disconnection that has grown between myself and my life back in Canada. The longer I am over here, the less familiar my idea of home becomes. Madrid feels like my home now. It's sad really as I love Canada and my family and friends back home but at the same time I have really grown up here – I have created a life here that I want to continue. I feel a strange guilt admitting that sometimes.
What Has Surprised You Most About The Country?
The Spanish have a universal reputation for being lazy but I've come to realise that it's not about laziness at all. The pace is slower here than other capital cities and that's perfectly fine! In fact, I find the people here in Madrid are extremely active! They are always out and about, always taking advantage of what this amazing city has to offer. Perhaps a better way to describe the difference in approach is that unlike other capital cities such as London where the culture is more live to work, the culture in Madrid is more work to live. The climate and food in Madrid are beautiful and Madrileños place great importance on enjoying them! Some may call that lazy, others may call it joie de vivre or being ahead of the curve!
What's Your Favourite Aspect Of The Country?
The history is by far my favourite aspect of Spain. Honestly, I am such a history freak and there is not one dull event in the history of Spain. Everywhere you go there are elements of the past that is still a part of daily life. Not to mention that each of Spain's provinces is incredibly unique.
What's Your Least Favourite Aspect Of The Country?
Sometimes I feel like there are inconsistencies here. When dealing with legal issues and government offices there never seems to be one straight answer for any particular issue. It all depends on who you talk to on what day. It can be incredibly demoralising for someone who genuinely wants to legalise their stay here and become a resident.
What's The Biggest Difference To Canada?
Though the weather is an obvious answer, it has to be the biggest difference. In Canada we are accustomed to extreme cold weather and the cities stay fully functional even with 20ft of snow on the ground. Over here their definition of cold is, in my opinion, silly. Outdoor activities close way earlier in the year and take longer until they open again for summer. The same goes for us in reverse – I haven't yet gotten used to the summers here. The 42 degree heat and the scorching sun gave me my first ever heat rash last year. I don't know how they do it! It's particularly hot in August when most residents flee the city for a month in search of shade!
Did You Have A Stereotype Of The People In Your Mind And How Did Reality Reflect This?
As I mentioned before, the stereotype of laziness was what I was expecting. The Spanish also have a reputation of being difficult and rude. This was indeed the case when I first arrived but eventually I began to realise that while their behaviour may seem 'rude' by our standards, it's perfectly fine here. The Spanish don't use empty "pleases" and "thank yous" – I think there's a mutual understanding between everyone.
How Did You Find Making New Friends?
Madrid is an extremely international city. All you need to do is meet one person and have them introduce you to their friends and you will have an amazing, diverse, group of people surrounding you. I find that I have become less of a social butterfly over this year. I've been trying to focus on work and living a healthy live rather than a life of partying. But if I wanted to go out and meet new people I know that it would be incredibly easy! 
What Is The Foreign Job Market Like?
If you want to live in Spain and work it can be a little bit difficult depending on the sector…
I don't fall into that category as I did a TEFL course here (Teaching English As A Foreign Language) and have had no problem finding work teaching English. There is huge demand for English teachers here despite the recession as speaking another language is a way for people to differentiate themselves in a competitive market. There are new jobs every month whether teaching business English to adults or general English to children! This can be a great option if you're looking for time-out from a city job or something more permanent.
For other lines of work, I'm not so sure. The country is still recovering from the financial crisis and  I know it can be difficult to find a company willing to spend the cash on foreign employees and the legal work that comes with hiring them. That said, I know English lawyers and financiers working for international companies who have transferred over here and are having  ball! Speaking Spanish isn't always a requirement.
How Hard Is It To Get A Visa?
Oh Visas.. this is one of those topics that no one seems to have a straight answer to. It all depends on the Visa type and why you want one. Student Visas are quite easy to obtain for most people around the world. Once you start to tread into the working Visa pool though, things get hazy, confusing and very circumstantial. For those looking to live abroad I suggest getting a student Visa with permission to work.
What Would You Do Differently Looking Back?
I would have saved more money. Being someone who lives in the moment means I don't think always about the consequences. I came home completely broke two summers in a row despite the fact that I was working while overseas!
What Advice Would You Give To Someone Thinking About Moving Abroad?
My advice would be to DO IT and do it 100%. You can't half-ass a huge trip abroad. I have met so many travellers over this past year who want a lot of the work done for them. What's the point? You won't learn anything from that. Travel isn't about how many cool selfies you can take in front of famous buildings. It's about the fun, scary, stupid, exciting, dirty, complicated, life changing moments you experience along the way.
What's Next For You?
I am planning on applying for another year here in Madrid and hopefully qualifying for residency in a few years! I also have many plans for the coming year to visit some new place in Europe and the East. Here's hoping!
How Can We Contact You?
You can contact me through my website, This Road Is Life. 
Tell Us Something We Didn't Know About You….
I am strangely obsessed with the entire Real Housewives franchise… I don't know how it all started but I find it wildly entertaining!
Some Of Madrid's Best Bits In Pictures…
Retiro Park is one of the largest parks in the city (350 acres) and one of Madrid's premier attractions. Belonging to the Spanish Monarchy until the late 19th century when it became a public park, it's a tranquil paradise away from the hustle and bustle of the centre.  A stone's throw from the famous Prado Museum, it is truly magnificent, filled with sculptures, monuments, galleries, crystal palaces and a peaceful lake.
Casa de Campo is Madrid's largest park (and also one of Europe's) with over 1700 hectares of land, including a lake, a zoo and amusement park.
Tapas, sangria and tinto de verano (a delicious mix of red wine and lemonade) are the perfect way to while away an evening in a plaza or park… Best of all, the cost of living is seriously low so meals out seem bargainous compared to places like London.
Experience the best of Madrid's gastonomy at one of its indoor food markets or roof terraces overlooking the cityscape. They're truly magical.