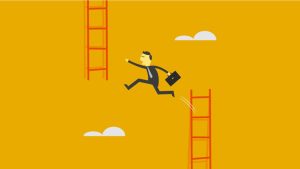 Shifting career at any point can feel scary, sometimes all the scarier in your 30s. At this age, you're no longer the fearless undergraduate hungry to cut your teeth in competitive new industries and the rose tinted spectacles of inexperience may have well and truly fallen off. You may also feel burdened by the liabilities of real life whether mortgages, children or otherwise.
But do not fear! These fears are very normal — so normal, that I see them again and again in career coaching clients hungry for career change but often disabled by fear. This is exactly why they seek out career coaching — so they can find ways to master their minds and harness easy to apply methods to shift into careers that truly excite and fulfil them.
So here are 5 top tips for taking the stress out of switching careers in your 30s, fast:
The Values Audit
Before even contemplating changing careers, it's important to get clear on your values — the needs or drivers you need to be connecting with in life to feel happy. I call this your 'Toolkit for Life' because once you know what energises and excites you, you have a roadmap for happiness and the clarity to shift path with confidence. For instance, it was easy for me to leave law and traverse into creating my own business when I realised I needed greater work life balance, freedom and fun to feel truly fulfilled in life. Getting clear on your values also helps you label why you've felt unfulfilled by prior roles, organisations or industries which brings clarity, relief and validation — the ideal springboard for career change. For instance, let's say you've felt drained working in a very process driven role and you realise creativity is central to your sense of self — it's then easy to see why you've felt out of sorts and more motivating to shift into a career that really compliments you. To get clear on your values, start by asking yourself what you can't do without in life at large? What would your dream job involve? What are you key frustrations and what's the opposite of each? What would make you truly happy? As Mahatma Gandhi reminds us: 'Happiness is when what you think, what you say, and what you do are in harmony.'
Identify your 'Why'
Most career coaching clients have no idea what their purpose is — that North Star that guides the bigger picture. For some career coaching clients, this may be making a difference, for others it may be spending quality time with family, for others it may be winning awards and becoming an expert in their field. To work out your 'why', ask yourself who do you admire in life and why? How would you like to be remembered when you leave this world? What kind of things would you like to hear people saying about you at your funeral? What kind of legacy would you like to leave? A lot of us think in ego driven, linear ways when it comes to careers, but as Steve Jobs warns us: 'I reached the pinnacle of success in the business world. In others' eyes, my life is an epitome of success. However, aside from work, I have little joy. In the end, wealth is only a fact of life that I am accustomed to'. So park your ego and ask yourself instead, what does success really mean to you? What would drive you on days when you feel like giving up? What kind of career and impact would leave you feeling proud at the end of your days?
Connect to the Truth
One of the key regrets Bronnie Ware identifies in her book, 'The Top 5 Regrets of the Dying' is: 'I wish I'd had the courage to live a life true to myself, not a life others expected of me'. So many of my career coaching clients fall into roles because their parents told them law or consulting would be a good idea or because the job title sounds sexy at dinner parties. Although it's natural to be led by others when we're young and unaware of what really drives us, with age comes experience, of different people, different roles and different corporate cultures — and greater awareness of how we really feel about each! By the time you're in your 30s, you have an ideal backdrop from which to explore what you've liked, disliked and craved more of in a role and environment. This commercial landscape sheds light on the key factors which drive aligned career change including your leading strengths, your passions and interests, your values and your purpose. So instead of thinking it's too late to change, see your experience for what it is — a vehicle to truth — uncovering key pearls of wisdom around what truly makes you happy. As F Scott Fitzgerald reminds us: 'It's never too late to be who you want to be'. Look at Ray Croc, the founder of McDonald's — he was 52 when he opened his first McDonald's franchise!
Leverage Your Experience
Career coaching clients often panic that they lack the experience to shift paths into a new career, forgetting they have developed some great transferable skills they can use as evidence to launch into new career directions. Start by asking yourself what are your leading skills? What have you been most complimented on in prior jobs? What comes naturally to you? What are you doing when you're most energised? And which of these skills overlap with leading skills in your new area of interest? Remember, existing killer skills can often be taken forward in new directions! You can also minimise panicking about career change by asking yourself what unique selling points you have in terms of prior expertise that you could harness to push you to the top of the CV pile for a new role. For instance, a client of mine had been a midwife for 15 years and was interested in moving into project management and innovation. Initially she panicked about her seeming lack of experience in these fields, but she soon started thinking more strategically, identifying how she could harness her unique selling point of clinical experience in new areas of interest. You guessed it, she found her dream job in a clinical setting and has been promoted twice already! If you don't have experience in a new area of interest, what quick wins could help you close the gap, whether work experience, a course or seeking advice from people in that area?
Chats with People
The most high results producing activity you can engage in, informational interviews with people in areas of interest will help you deepen clarity around new avenues, fast. Many career coaching clients panic about talking to strangers so start by asking yourself who you know in possible areas of interest and also who you know who may know people they can connect you to. Remember, we've all been confused in life — it's the one commonality of being human — and people generally love talking about themselves, especially if you make them feel special. The one common mistake I see career coaching clients make here is the same problem I see in cover letters, job applications and job interviews — if you don't bespoke your approach to the person or organisation you're trying to seduce with specific examples of why you think they're special, they won't make time to talk to you. To be seen as worthwhile, you need to prove you've done your homework, showcasing your research, communication and interpersonal skills through specific examples that evidence your interest. The litmus test is asking yourself: 'Could the reasons I'm giving to evidence my interest in this person apply to someone else?' If the answer is yes, your reasons are too vague and not specific enough. To get clear on what reasons you could give, start by asking yourself, what 3 things truly inspire me about this person or their organisation? Then think of a specific example for each whether an article they've written, a project they've worked on or otherwise. Remember, authenticity and passion sells!
So there you have it — 5 simple ways to boost clarity to get clear on career change fast! It's easy when you know how! Don't believe me? These top tips have helped hundreds of career coaching clients like Marcel, all united by confusion, self-doubt and sometimes crippling fear, change careers in sometimes radical ways:
"Mel was arguably one of the best things that happened to me last year. I had just moved to the UK and found myself facing a lot of professional challenges regarding self-promotion, speculative approaches, interviews, etc. With a well-planned, straightforward programme, Mel made me rediscover my strengths and taught me how to adapt them to my new reality. Thanks to her strategies, I was able to thrive and secure a leading role at a huge multinational company!"