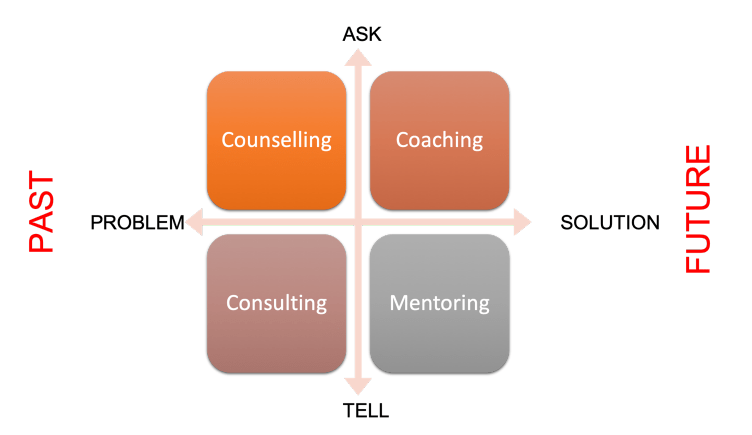 "I never cease to be amazed by the power of the coaching process" – John Russell, Managing Director, Harley Davidson Europe
Have you ever wondered what the difference is between coaching and counselling?
Or maybe, like me 7 years ago, your first impression of coaching was some wacky American self-help thing full of hot air?
That was until I started practising coaching and had to eat my words, fast.
Y'see, though coaching isn't rocket science, it's amazing the magic that happens when we have the space to really explore who we really are, how we really feel and what we really WANT versus what we feel we SHOULD do – the latter usually signals a disconnect from the true self and is often no more than a societal construct whether conditioning from our parents we assumed knew better than us or from those around us.
Ironic, really, given that real motivation, excitement and joy in life comes from doing what you really WANT to do versus what you feel you SHOULD do (the latter being a top 5 regret of the dying according the the bestselling author and palliative nurse, Bronnie Ware). That's coaching in a nutshell – it helps you to connect to your most authentic self, which releases a huge energy surge so you can move from where you are now to where you want to be much faster than before.
That's why leading professionals like Bob Nardelli, CEO of Home Depot say: "People, unless coached, never reach their maximum capabilities".
And by people, I'm talking clients from all walks of life – managers, company directors, MBA students and downright cynics. Like my highly successful friend who was dismayed he couldn't become a Partner at his FTSE 500 company without a coaching session. After an hour with the coach, he soon changed his mind.
If, like him 6 years' back, you're wondering what coaching is all about or how it could serve you with results based goods, check out the difference between coaching and counselling in my short video here.
And if that tickles your fancy, or you have any questions about it, drop me a line or book in a free discovery call here to learn more about how career and life coaching could uplevel your energy, productivity and success tenfold in 2023.
Be warned, though, while coaching and counselling are different beasts, there's a reason why a handful of clients say they've got more out of one coaching session than years' of therapy…
#coaching #people #motivation #energy #law #lawyers#managementconsulting #managementconsulting #property#insurance #thebar #barristers #chambers #HR #partners#managers #stress #mentalhealth #wellbeing #happiness #success#learninganddevelopment #personaldevelopment#peakperformance #relationships #communication #transformation#promotion #politics #careerchange #life #change #therapy#counselling #power #CEO #csuite #CFO #CTO #CIO #COO#support